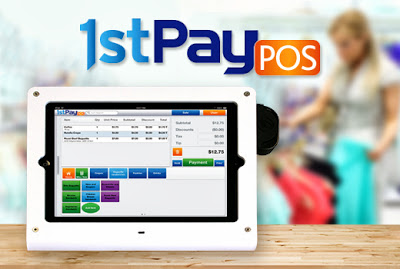 GoEmerchant is excited to introduce our new 1stPayPOS™ iPad point-of-sale system. Grow your business with 1stPayPOS™, a feature-rich, cloud-based payment application designed for businesses of all sizes looking to modernize their Point-of-Sale. Our great management features help increase your profitability and keep you in control of your business.
1stPayPOS™ was engineered as a turnkey solution for businesses and is available as a free app you can download from the Apple App Store. The initial Bundled Package includes a sleek iPad stand, receipt printer, cash drawer and encrypted credit card reader to ensure every transaction is secure. Upcoming releases are scheduled to also include restaurant, hair and nail salon applications.
Empower your business and increase your sales and profitability with the following 1stPayPOS™ benefits:
Elegant and compact iPad Point-of-Sale system
Intuitive and Easy to Use
Faster Checkout
Ease in Training
Create a Unique Customer Experience
Make Better Business Decisions
Cloud-Based Reporting – access from anywhere in real-time
Unlimited 24/7 Boutique Style US-Based Support

1stPayPOS™ is an economical alternative to traditional point-of-sale software and terminals with features such as:
Robust Sales Analytics
Cloud-based Reporting – access portal from anywhere, anytime
Customized Product Modifiers
Split Tender
Order Hold Option
Cash Drawer Management
User-Based Permissions
Auto Calculation of Sales Tax and Change Due
Tip Processing
Cloud Server Backup
Proprietary End-to-End Encryption
Free Application Updates
Come visit us at Coffee Fest 2013 in Seattle, October 4-6, at Booth 736
Request a Demo. Call us at 888-638-7867 or sales@goemerchant.com or visit our website.